Karen Lee's book is a delightful read. I'm the last person in the world who could actually get through a book on money and finance, but this one spoke to me like no other. The short stories that Karen has penned ring true on all levels. Her book has given me the feeling that I can deal successfully with my own money issues. I didn't have to study the lessons; they leapt out at me through the characters that she paints simply and truly.



Daemon Baizan - Owner, DAEMONpictures.com

As the recession continues to plague us forever more, people are searching for ways to wrap their head around their money. Reading this book helped me see what others and more importantly, what I am doing with my money. The book is easy to read in fact, very funny at times, as you can picture yourself in some of the same situations as the people described in the pages of this book. What I liked best is it reinforced what I already knew and reinvigorated my commitment to saving, investing and watching what I spend. I highly recommend this book to anyone wanting to reinvent themselves financially or needing a good kick in the pants! Thanks to the author. Great Job!



Lise Desormeaux - Founder of RMR-Real Estate Marketing Results and ESIL, LLC

I really believe that my relationship with money would have been very different had Ms. Lee's book been available 15 years ago. It would have saved me from some years of frustration and aggravation.

The authors "first person" point of view and personal stories really resonated with me. Her point of view helped me understand that regular, hard working people can amass wealth, if they get off of the spending bandwagon and maintain fiscal discipline. I learned that financial success, is tied to discipline, not intelligence. You just have to do it.

This is an easy to read and easy to digest book that I would recommend to anyone looking to free themselves from financial depression and stop living in 2 week cycles.



Larry Weissman - Director of Sales, SAY: Media

I have known Karen for many years. She is a great story teller and explains complex concepts of finance in an easily understood manner. The book is quite enjoyable to read. She uses real life experiences to teach the whys' and hows of money issues and practical ways to address them. As a financial planner myself, I have recommended this book to several people. If you are unsure on where to start with your finances, invest in your future by ordering this book.



Kathy Fish, CFP® Fish and Associates Financial Services

Karen's book is filled with real life stories from years of experience as a financial planner. It's a refreshing, honest account of our emotions and our "it's just money" mentality. Its story-based format makes reading a personal finance book enjoyable, entertaining, and educational. Forget other books loaded with fancy terminology and confusing financial figures. Every reader is bound to identify a part of themselves in one of the stories, when Karen brings up subjects like marriage, divorce, teaching children about money, and even inheritances. Karen's willing to exposure her own personal experiences makes a reader feel as if they were listening to a trusted confidant. Readers have plenty of those "ah-ha" moments that helps them both reflect, then gain a deeper understanding about the sometimes frustrating relationship of people and their money. Reading "It's Just Money" you'll be able to start a discussion with a spouse, child, parent, sibling, or any other loved one in your life.



Nanette Duffey - Prof. Daily Money Manager & Owner at Organized Instincts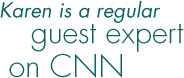 Karen is frequent guest on CNN Newsroom and her articles have appeared in both industry and consumer publications, including Kiplinger's, Forbes, CNBC, MSNBC, Huffington Post, Parenting Magazine and Ladies Home Journal.