Karen is a gifted speaker and motivator. She gives her listeners not only a new understanding of their money behavior, but also the motivation and inspiration to change. She offers specific steps to forge a new relationship with money and ultimately achieve financial success.

Please fill out the form below. * All fields are required.



Karen Lee is a sincere and engaging speaker. No wonder Securities America, Inc. asked her to serve as a panelist at the "Super Women's Summit" and had her do a breakout session as well. Karen offered so many good ideas and observations in "Sometimes I Feel Like a Therapist" that a big-name editor in the audience asked her to write an article!



Marie Swift, President and CEO, Impact Communications, Inc.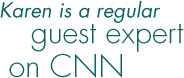 Karen is frequent guest on CNN Newsroom and her articles have appeared in both industry and consumer publications, including Kiplinger's, Forbes, CNBC, MSNBC, Huffington Post, Parenting Magazine and Ladies Home Journal.