Thank you for your interest in having Karen Lee attend your event as a keynote speaker. If you wish to download a digital media kit, please click on the link below to download a pdf file.

DOWNLOAD DIGITAL ONE SHEET

Speaking Engagements:
Wise Women Speak Foundation
April 28, 2012
Featuring Karen Lee as Keynote Speaker
Watch Video
Interview with Karen Lee
Watch Video

Media Appearances:

Headline News Now
July 15th, 2014
Watch Video
CNN Headline News
Jan 25th, 2014
Watch Video
CNN Headline News
Jan 4th, 2014
Watch Video
CNN Newsroom
October 12, 2013
Watch Video
HLN Weekend Express
June 1, 2013
Watch Video
CNN Newsroom
January 6th, 2013
Watch Video
CNBC Closing Bell
September 10th, 2012
Watch Video
CNN Newsroom
May 12, 2012
Watch Video
CNN Sunday Morning
July 15, 2012
Watch Video
CNN Newsroom
July 8, 2012
Watch Video
CNN Newsroom
June 9th, 2012
Watch Video
---
---
---
---
---
---
---
---
---
---
---
---
---
---
---
---
---
---
---
---
---
---
---
---
---
---
---
---
---
---
---
---
---
---
---
---
---
---
---
---
---
---
---
---
---
---
---
---
---
---
---
---
---
---
---
---
---
---
---
---
---
---
---
---
---
---
---
---
---
---
---
---
---
---
---
---
---
---
---
---
---
---
---
---
---
---


In my business, I have the opportunity to interact with hundreds of advisors every year. Karen Lee is one of those advisors who truly understand that financial planning is not all about the x's and o's. Her focus on money relationship management is the next level of financial planning. I am truly looking forward to what Karen has to offer next!



G.C. Lewis, SunAmerica Retirement Markets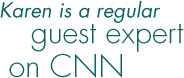 Karen is frequent guest on CNN Newsroom and her articles have appeared in both industry and consumer publications, including Kiplinger's, Forbes, CNBC, MSNBC, Huffington Post, Parenting Magazine and Ladies Home Journal.